Are you one like who loves creating websites for fun and as well for money? The former is more accurate than the second one. I love creating new websites for fun. The fun is that none of them stayed with me longer than more than three years.
If you are like me then read this awesome I have written just for you sitting on a couch at 12 AM. Yeah, I am not joking! I am most like an owl than a human now. Just kidding I prefer writing at night time everything is calm and no one is there to disturb, especially my little cousin who always love to wander around me.
I sell websites to people who love to have some passive income besides their salary and potentially one day they will sell at a higher price. So, here comes one interesting question.
Why do People sell websites when it is generating income?
There is no direct answer. I sell because I don't have patience. As I finish building one site my creative mind urges me to work on a new one. And I end up selling the old even before its full potential and that's where my buyers see the profit.
Some also sell websites for money, I don't want to lie, I do sell website for money to meet my goals which can be like buying a new laptop, mobile, traveling to a beautiful place and many endless goals more… But, even if I don't require money at that time I may sell just because a niche has popped in my mind. (what a shaky brain!)
Some even sell because they want to change their life!
Yeah, that's true, if you do not believe me see this website sold for on million on empire flippers, don't you think this has changed the website seller's life. May not if he/she was already a millionaire before.
And, and, and…..what may be the reason……..
Oh, maybe do not want to take too much risk so want to sell the website when it is at the peak of its earning. That fair enough, why to take a risk when you can chill!
Where to sell an online business or precisely a website that you have build
People sell different types of online business that they have built-in a span of time. Keep in mind that building an online business not easy and takes time.
I can not expect a penny for the first two to three months after I have created a website, that's what I believe. Online businesses can be of various types because of which the results may vary.
The common online businesses that are being sold on the marketplace are:
1.Dropshipping websites: I have no expertise on these websites. Dropshipping websites can make you a lot of money. But you need to have good knowledge of google ads and facebook ads rather than SEO.
2. Amazon FBA websites: They sell products through Amazon seller platform.
3. Saas websites: Needs a knowledge of coding. If you do not have knowledge about coding you will need a good investment in the development of the site.
4. Content websites: I can say that I know how a content site works and how you can make money from it. These type of websites make money from ads, affiliate links, sponsorships, digital product sales, subscriptions, etc.
5. Service websites: Services like digital marketing, I do have a digital service website.
6. Websites having multistream of income: Like some Amazon FBA sites, do earn even from Amazon associate program.
I will only talk about content websites because this is what I know to build and sell when the time comes. But, All have the same aim that is to make money.
There are many online marketplaces where you can sell your websites online. But you have to choose wisely as scammers do exist in these platforms.
My no.1 favorite one is empire flippers where all the genuine buyers and sellers exist.
Flippa was great before but now it is full of scammers. They blindly allow fake sellers, buyers to thrive on their platform. I am not saying all sellers on flippa are fake, but a maximum of them. Even then also you can sell your small sites which are not earning that big. If your website earning a decent amount per month lets say $500, sell with empire flippers where actual buyers exist and you will be paid off at least 25x times of your monthly earnings.
Other marketplaces are F E International,
I have also tried FB buy sell groups and got success too. Not all buy sell groups work and do not spam everywhere on facebook. Go to bogging groups and ask whether they have any specific group where they allow to promote websites for sale. One such awesome group is HBB Buy/Sell group.
These are some of the ways you can try to sell your websites. Build relations with people on blogging groups who talk about domains and websites.
Selling WordPress websites to clients
Selling website to clients what do you think is it easy?
It is easy if you have built a website which has a clear traffic source and income source. Do not make anything complicate. Buyers want to buy a website which has clear traffic and income source.
You have created the site and how to sell it now. Selling website is not easy if you do not know where to sell. Some buyer will even try to snatch your site demoting your site stats. That is why I have written a few tips for you to consider before selling a website.
5 things to consider before selling your website online
Take time to sell
This I learned a very hard way. I have done many mistakes before when it was about selling my sites. I used to take actions fast. If someone offered me a way less money I used to take the offer. I get excited for money on hand than on a website which is making ten times less of it per month. I sold many websites which were made just for 6 to 7 times of monthly revenue.
Invest time in the promotion
This is one thing I fail most of the time. I do not spend times on promoting a site. By promoting I mean creating a Facebook page, commenting on other blogs, guest blogging, etc.
Keeps your site stats ready
Every buyer wants site stats to be the truth. Do not create fake screenshots. Maybe you able to sell a site to him for once. But, he will no longer be your buyer anymore. I have may buyers who are like my regular clients, if I want to sell a site I directly contact them.
Use authority sites to show your site stats
Website Buyers believe more on google analytics than WordPress dashboard stats from plugins. Other some authority sites are similarweb for site traffic stats, Moz for domain authority, Semrush for backlinks.
Design the site well
It is ok if you started your site just with a simple theme. Improve the website layouts and designs before selling it. It will increase the trust of the buyer and eventually may end up paying more.
Target tier one countries
These are the countries whose have strong currencies. If your website is having more visitors from countries like US, UK, Canada, Australia buyers are eager to buy for a high price.
Now let's come to the part I did it!
Selling a website is not that smooth. It takes time and goes through many negotiations. You need to keep all accounts ready. Mutual trust is needed if you are selling on online.
Below is an example of a website. This website I created and for two years with me. This website is on technology niche. The website was getting more than 10k hits per month and making $50 per month from AdSense and amazon associates.
Now, you probably want to know at what price I sold the site. The buyer was my regular client and I didn't want to negotiate with him. I happily accepted the 10x of the monthly income. I was also in need of money as I was planning to buy a DSLR for my travel blog.
Now, you may be thinking I just made $500 from the blog. No, you are wrong!
I told you that the site was with me for two years and in those two years, even I was lucky to crack a few sponsored guest posts.
From AdSense, I made about $650. Mostly I use link ads under tile which pays most.
From amazon associates, I made about $450 in the past two years from the site. I do not have links to amazon from all posts, but I have written a few pillar posts targeting specific products like "best Wii remote controller".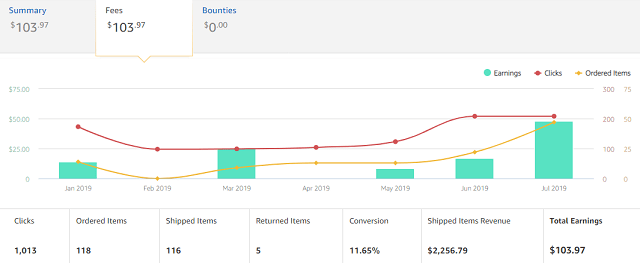 I have published about 10 to 12 paid guest posts which were ranging $25 to $39. If I calculate it will be roughly $300 in total. I use this website called rankz to get paid guest post opportunities. It is very easy to get approved from rankz all you need is a website having more than 10k visits per month.
I have also partnerships with many other affiliates like bluestacks, CPA affiliates made me approx $350.
In total, you can say I made roughly about $2250. I think not bad for the time I put in the site.
I have told you how much I earned from the site which is the total revenue. What about the profits?
My investments were just $94 for web hosting and $25 for domains for two years. I have hired a cheap writer for about $5 per posts for a total of 20 posts and rest are written by me when I use to get some free time.
My total investment was about $250 and some spare time like 10 minutes to write a post in a week. I do not watch TV after I was introduced to YouTube. When my family watches TV, I sit in a corner to write a quick post. Total posts on the website are more than 100. To be honest all posts on the website is not that strong and a few of them are just 500 words.
It reveals time, I have taken permission from the new owner to mention the site. The site is "techsearchonline.com".
Conclusions
You can also make such websites and make money online. As I say always these type of websites make money even when you are asleep. These websites literally do not need too much time investments. All you need is a push in the post publishing at first. After that publish just one or two posts per week.
I am always excited to work on a new website. Now, I have been working on many new websites which I will reveal to you as the time comes. Keep reading my posts for more updates.